BOOKING IS ESSENTIAL DURING WEEKENDS AND SCHOOL HOLIDAYS!
This includes teacher training days.
Please ensure you book in advance through our
WE DO NOT BE ACCEPT WALK-IN's DURING WEEKENDS AND SCHOOL HOLIDAYS.
THERE IS ALSO A CHARGE FOR ADULTS INTO THE SOFT PLAY PLEASE BEAR THIS IN MIND BEFORE MAKING YOUR BOOKINGS.
SOFT PLAY SESSIONS
Only during weekends and holidays
Morning 10:00am-1:15pm
or
Afternoon 1:30pm -5:30pm
MUST BE PREBOOKED THROUGH THE BOOKING SYSTEM
Early admission is not permitted.
DUO SESSIONS
Only during weekends & holidays
Choose either our morning or afternoon SOFT PLAY session with a 1 hour allocated BOUNCE.
Morning DUO or Afternoon, short session or long, you decide!
Please see booking system for details on bounce sessions and any other information.
This is a closed session limited to child bouncers only.
Only for children 5 and over.
There is no flexibility once you have chosen your select bounce time.
MUST BE PREBOOKED THROUGH THE BOOKING SYSTEM
TRAMPOLINE SESSION
Only during weekends and holidays
12:00pm-1:00pm
This is an open session for any age range including adults
MUST BE PREBOOKED THROUGH THE BOOKING SYSTEM
WEEKDAY SESSIONS
SOFT PLAY ALL DAY MONDAY – FRIDAY DURING TERM TIME
Toddler Morning
Monday/Tuesday/Thursday/Friday
Soft Play all day, with activities starting from 10:30am.

Add a bounce Bounce 11:30am-12:00pm

(Toddlers ONLY bounce)
Pre School DUO
Soft Play all day

Bounce 1:00pm-1:30pm

(No restrictions, Soft Play included)
Pre School Bounce
Bounce 1:00pm-1:30pm

(No restrictions, No Soft Play)
After School Tea&Play
Soft Play 3:15pm-5:30pm

Add a Bounce 4:30pm-5:00pm
(Only available after 3:15, Food is at 5 after your bounce session. Child only bounce)
Please note; Toddler Morning does not run during the School Holidays or on any Teacher Training days. This product can be withdrawn at any time without prior notice.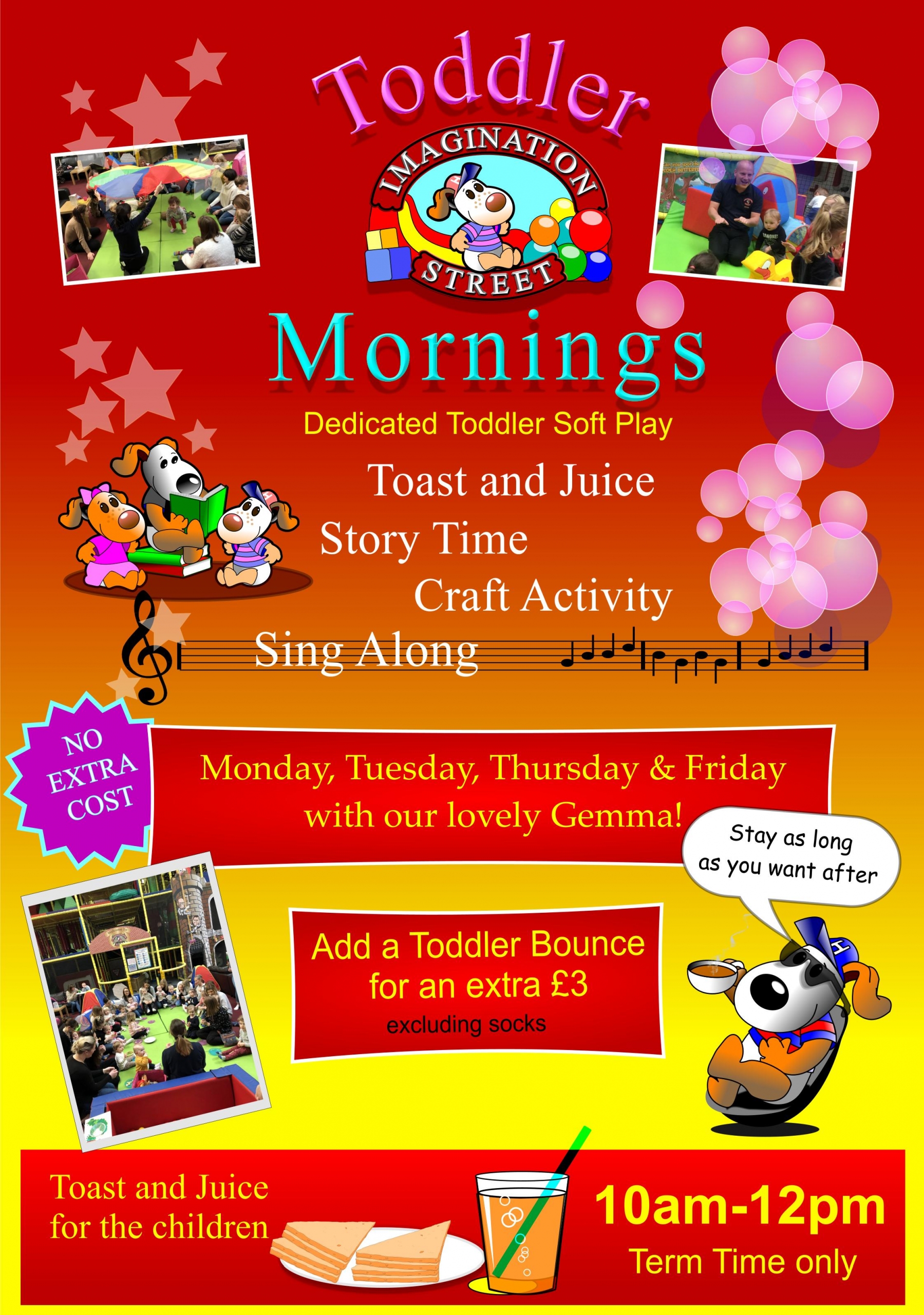 Please Note; After School deals are term time only. Tea, Play and Bounce is only available when pre-booked through the website. From 3:15pm onwards, only available upon arrival or prebooking. Cannot be obtained after arrival. Last food orders for Tea and Play are 4:45pm. This a product can be removed at any time without notice.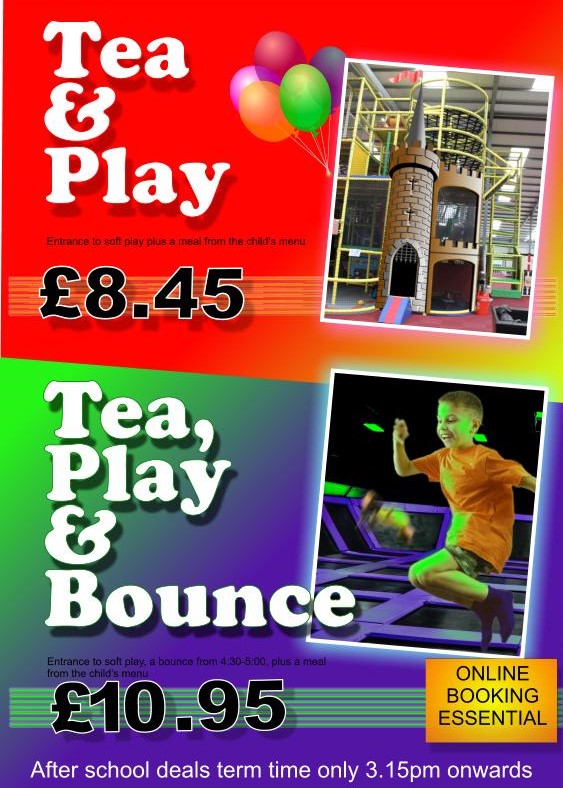 You can check availability or book your party by clicking the link below!
Imagination Street is a family owned business, that has been trading for over 14 years. We started our journey in Bromsgrove which sadly closed down back in 2016. Our Redditch branch has now been running since 2012 and at over 20,000 square foot we are the biggest combined indoor soft play and trampoline park for many miles and we have the largest play frame to match. With some UK unique features like our brand new interactive games area and imagination zones a visit! Imagination Street Soft Play and Trampoline Park, Redditch promises to be one you won't forget but will be sure to want to repeat over and over again.
As a parent myself I understand how important it is for you to feel free to interact with your children, this is why we support responsible playing in the play frame and also have a library for some quiet time as well. We also have over 50 comfortable leather sofas,  FREE Wi-fi to catch up on work, and hundreds of FREE parking spaces. All of this and there is NO CHARGE for adults DURING TERM TIMES in the soft play area!
We are also incredibly passionate about our parties so please take the time to browse the different options we offer, you can now also book all of our parties online. Be assured it will be the best, and easiest, party you ever host.
You will be amazed by everything we do and how well we do it. Please enjoy looking around our site and we look forward to seeing you soon.
Kevin Grubb 
Owner of Imagination Street, Redditch, Worcestershire.
Soft Play and Trampoline Park serving;
Bromsgrove, Droitwich, Redditch, Worcester, Worcestershire, Stratford, Warwick, Solihull, Studley, Alcester, Evesham, Malvern, Birmingham, Kidderminster, Bewdley
---
GDPR REGULATIONS
In line with the GDPR regulations in effect as of May 25th 2018 Imagination Street would like to clarify our policy regarding the usage of your data.
Waiver Information
It is a pre-requisite of our insurance company that all customers wishing to use the Trampoline Park at Imagination Street must fill out a waiver confirming that all the users have read and understood the safety information prior to using the facility. This information is stored on a secure server and is not used for any other purpose.
All questions regarding this matter can be directed to info@imaginationstreet.co.uk and we will be happy to discuss this further with you.
Welcome to the Midlands Largest Combined Soft Play and Trampoline Park situated in Redditch!
We are open 7 days a week! Monday – Sunday 10:00 till 5:30!
We are incredibly proud of our combined children's entertainment, Imagination Street Soft Play and Trampoline Park. This means your children will be able to come to one place to play in one of the Midlands' largest soft play area, or have a go on a brilliant trampoline park or even both at a discounted rate!
Imagination Street Soft Play and Trampoline Park in Redditch is set in the stunning Worcestershire countryside less than 5 minutes from Redditch and within easy driving distance of Droitwich, Stratford, Worcester, Warwick, Solihull, Birmingham, Alcester, Evesham and Malvern. With 100's of free parking spaces next to Imagination Street, No charge for Adults for soft play during the week in term time, no registration fee and free wi-fi Imagination Street is the place to bring children of all ages and for adults to enjoy themselves as well.
To help you enjoy your visit, we are continuing to enforce the following safety measures.
Timed Sessions
We are still operating two separate play sessions.
Advanced on-line booking is essential.
Hand Sanitisers
Please use the hand sanitisers provided, on entrance to Imagination Street, prior to entering the play equipment and throughout your visit.
Cleaning
We will continue to enforce a clean down between play sessions in addition to our existing cleaning schedules.
Fogging
A fogging sanitiser is used throughout the play equipment.
Fogging produces a protective film eliminating the spread of all viruses.
Thank you for your co-operation
Please note Imagination Street does not accept responsibility or liability for personal possessions